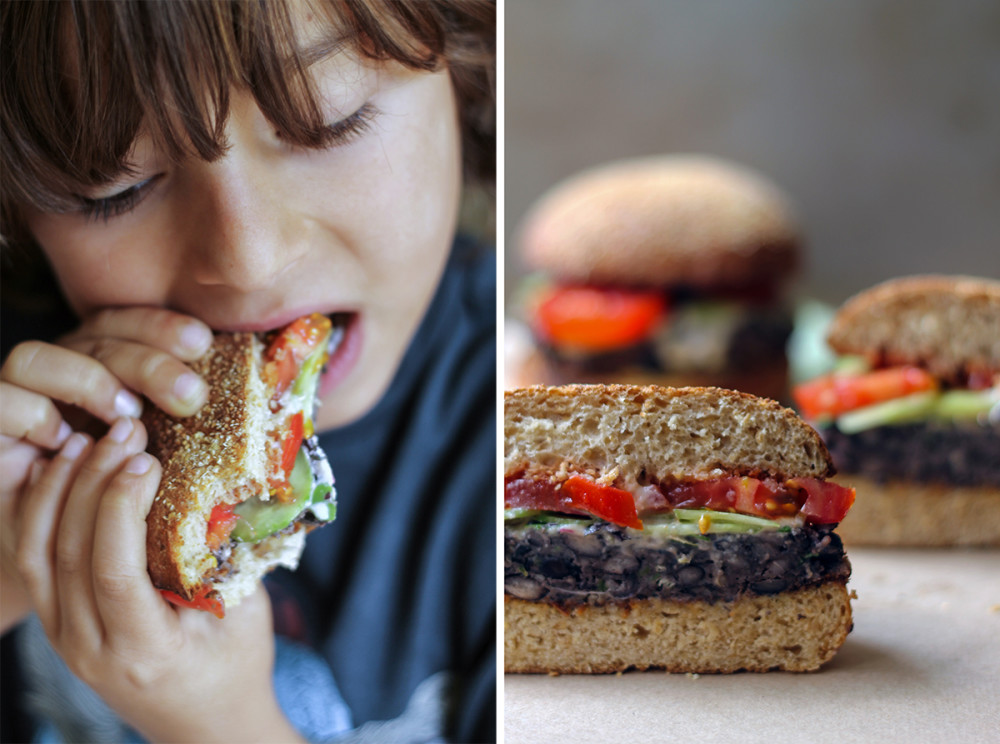 The first time I had a burger was in the beginning of nineties in Israel. I was 16 or so, soon after I moved in with my twin friends, whose their New Yorker dad/excellent cook made them one day for lunch. The first time I had a veggie burger was in 2000 at a restaurant in New York. I don't remember in which restaurant but I remember it was disgusting. Ten years later I decided to give it another try in Los Angeles at a burger joint called The Counter and this time I wasn't disappointed.
After I've had a few veggie burgers at different places I decided to develop my own recipe. The good veggie burgers were solid and crunchy on the outside and tender on the inside, and had deep flavors. I made my veggie patties the way I made kebabs, with onion, parsley, cilantro and spices and they came out delicious. Instead of cheese I covered them with tahini, which melted in the oven.
So good, you have to make them, even you, non-vegetarians. Don't look at it as a meat substitute, look at it as a good sandwich. Plus, it wouldn't be a bad idea to give your a gut a little break from animal product every now and then.
The tahini binds all the textures together. For gluten-free version, use a gluten-free bun or skip the bun and have the patty on a bed of green leafy salad or any salad.
Black bean burgers with melted tahini
1 small onion, roughly chopped
1 garlic clove
1 jalapeño pepper, seeded and roughly chopped – optional
2 cups of cooked black beans or 2 (15-ounce) cans black beans, rinsed and drained
Handful cilantro leaves
Handful parsley leaves
½ teaspoon cumin
1 large egg (or small but not jumbo or XL)
1/2 cup bread crumbs or 1 heaping tablespoon rolled oats
Salt and fresh ground black pepper
Canola oil to grease the skillet
Tahini paste:
2 heaping tablespoons tahini butter
2 tablespoons filtered water
Juice of half lemon
To serve with:
4 hamburger buns
Mayonnaise or Veganaise
3 tablespoons ketchup mixed with 1 tablespoon harissa or any hot sauce – optional
Optional Toppings:
1 tomato, finely sliced
1 Persian cucumber, finely sliced
A small handful microgreen or lettuce or onion
Preheat the oven to 400ºF or a barbecue grill.
In a food processor, chop finely the onion, garlic and jalapeño. Add 1 cup black beans, cilantro, parsley and cumin, and pulse to combine.
Transfer the mixture to a medium bowl. Add the remaining black beans, bread crumbs and egg, season with salt and pepper, then mix with a spoon until well combined. Refrigerate.
Prepare the tahini. (Do not use store-bought, ready-to-eat tahini. It will separate in cooking.) Put the tahini ingredients in a small bowl and gently mix them with a spoon. The mixture might be lumpy at first, but don't worry; keep stirring until the batter becomes a smooth, fluffy paste. If it is too thick, add a little more cold water, if it's runny, add a little tahini.
Put 1 tablespoon canola oil into a cast iron skillet (or any oven-proof skillet) and put it over medium-high heat. Divide the mixture into 4 portions and form into patties. Place the patties on the skillet and cook for 5 minutes. Transfer the skillet to the preheated oven and cook for 5 minutes. Flip the patties with a spatula, then add 1 tablespoon of the tahini paste over each patty. Cook for 5 minutes, then remove from the heat.
Toast the hamburger buns in a toaster oven or grill. Spread the bottom of the buns with mayo and the top with ketchup mixed with harissa. Assemble the burger with cucumbers, tomatoes and microgreens, and serve.
If you don't have a food processor: mash the the beans in a bowl, then chop the produce by hand and mix it with the beans.